Essential Facts about NovoSorb BTM
09 Jan 2022
When trauma to the skin occurs, large areas of both the skin's surface (epidermis) and deeper layers (dermis) may be destroyed. In many cases, large full-thickness wounds may require temporization due to the lack of suitable donor sites for primary skin grafting. Clinical research[1] indicates the temporization of deep, large wounds with dermal scaffolds can not only help provide physiological wound closure but also produce good functional and cosmetic outcomes.
NovoSorb® BTM (Biodegradable Temporizing Matrix) is a biodegradable temporizing dermal matrix designed to aid the body in regenerating new tissue for wound closure and reconstruction of complex wounds. NovoSorb BTM is a fully synthetic bilayer open-cell matrix that acts as a scaffold and is designed to facilitate the growth of a fully vascularized dermal layer (i.e., neodermis), similar to native tissue, ready for definitive closure.
How NovoSorb BTM Works
NovoSorb BTM consists of two layers: the sealing membrane and the matrix. The fenestrated sealing membrane physiologically closes the wound, providing temporary closure and reconstruction while the body continues to heal. This top layer is a temporary nonbiodegradable structure that is removed once the surgeon determines the tissue has fully integrated throughout the NovoSorb BTM.
The matrix is a 2 mm-thick porous matrix that allows blood vessels and cells to infiltrate (i.e., integrate) into the structure to aid in the reconstruction of the skin's dermal layer. It is bioabsorbable and designed to facilitate growth and then be fully resorbed over time.
Clinical Uses for NovoSorb BTM
NovoSorb BTM can help surgeons achieve favorable cosmetic and functional outcomes for patients. [2] NovoSorb BTM's synthetic polyurethane matrix is a product of PolyNovo's patented NovoSorb® technology, allowing for a versatile solution that can be used to treat a variety of complex wounds, including:
Partial and full-thickness wounds
Pressure ulcers, diabetic ulcers, venous ulcers, chronic ulcers, and vascular ulcersSurgical wounds (donor sites/grafts, post-Mohs surgery, post-laser surgery, podiatric, and wound dehiscence)
Trauma wounds (abrasions, lacerations, second-degree burns, and skin tears)
Draining wounds
Why NovoSorb BTM Works
NovoSorb BTM's unique dermal matrix promotes organized healing. [3] As a non-reticulated, open-cell matrix, NovoSorb BTM is comprised of interconnected chambers and pores made up of approximately 94 percent open space, providing the body with a structure for cellular migration.
The chambers and pores (i.e., synthetic matrix) compartmentalize a large wound into series of interconnected microwounds, allowing the body to heal through organized regenerative healing instead of the body's chaotic natural reparative healing process. As healing progresses and a neodermis develops, the chambers and pores hold shape for 6+ months, maintaining the microstructure well into the remodeling phase. Over time, this structure disintegrates as the matrix hydrolyzes, leaving a vascularized, uniform tissue.[2]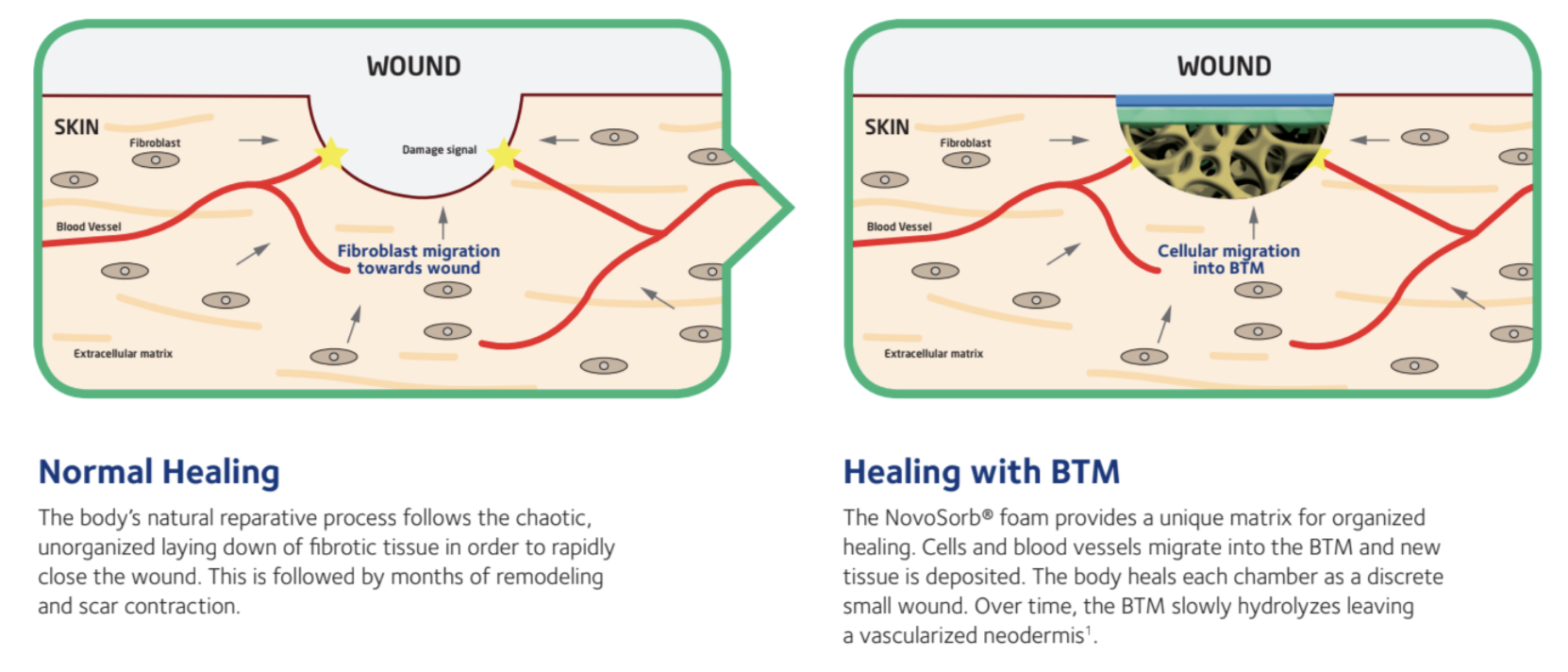 What Makes NovoSorb BTM Unique
As a synthetic bilayer wound matrix, NovoSorb BTM offers several unique advantages for treating traumatic wounds. These benefits include:
Robust in the presence of infection [1]

Unlike biologics, NovoSorb BTM's synthetic composition does not provide a food source for bacteria

Designed to minimize scarring and contracture [1]

NovoSorb BTM facilitates the body's ability to regenerate the dermis

Cost-effective alternative to biologics

NovoSorb BTM typically costs less than biological alternatives

No cold storage

NovoSorb BTM can be stored at room temperature (≤ 25° C)

Large sizes

NovoSorb BTM is available in sizes up to 20×40 cm for large wounds

Easy application

NovoSorb BTM is easy to cut and apply with sutures or staples

No tissue tracking

NovoSorb BTM saves data logging time for the clinical team

Integrates over exposed bone or tendon[3]

NovoSorb BTM promotes the growth of a neodermis, aiding in limb salvage

Fenestrated sealing membrane

The sealing membrane limits evaporative moisture loss[4]
NovoSorb BTM is a novel medical device that offers many key advantages compared to competitive biological skin substitutes. Perhaps notable is that NovoSorb BTM has been clinically shown to retain its product integrity and robustness in the presence of infection, [1] which is a key differentiator.
How NovoSorb BTM Is Different
NovoSorb BTM is the world's first synthetic dermal matrix. Being fully synthetic, NovoSorb BTM does not contain biological materials that would serve as a food source for bacteria.
NovoSorb BTM's unique architecture allows the dermal implant to be applied to the wound bed in a single application, maintaining its integrity as the wound continues to heal over time.
Once cellular material infiltrates into the matrix and NovoSorb BTM adheres to the wound bed (approximately as early as seven days after NovoSorb BTM application), range of motion activities can begin. Early adherence with only a single application allows patients the potential to mobilize faster.
NovoSorb BTM is a synthetic biodegradable temporizing matrix that can treat a variety of wounds. To learn more about the benefits of NovoSorb BTM, visit our website at PolyNovo.com or contact one of our knowledgeable team members at (302) 268-6163.
Note: this document contains general guidelines and is not designed to replace existing institutional protocols or professional clinical judgment regarding patient care. Please refer to the instructions for use.
__________________
[1] Solanki NS, York B, Gao Y, Baker P, Wong She RB. A consecutive case series of defects reconstructed using NovoSorb® Biodegradable Temporising Matrix: Initial experience and early results. Journal of Plastic, Reconstructive & Aesthetic Surgery. 2020; 73(10):1845–53.
[2] Greenwood JE, Wagstaff MJD (2016). The use of biodegradable polyurethane in the development of dermal scaffolds. In: Cooper SL, Guan J (eds) Advances in Polyurethane Biomaterials. 1st ed. Woodhead Publishing, pp. 631–62.
[3] Damkat-Thomas L, Greenwood JE, Wagstaff MJD. A synthetic Biodegradable Temporizing Matrix in degloving lower extremity trauma reconstruction: A case report. PRS Global Open; 2019; 7(4):e2110.
[4] Dearman BL, Li A, Greenwood JE. Optimization of a polyurethane dermal matrix and experience
with a polymer-based cultured composite skin. Journal of Burn Care & Research. 2014; 35(5): 437-48.
[5] Greenwood JE, Schmitt BJ, Wagstaff MJD. Experience with a synthetic bilayer Biodegradable Temporizing Matrix in significant burn injury. Burns Open. 2018;2(1):17-34.